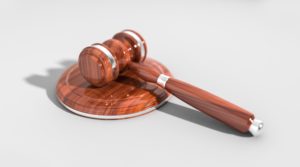 Motorcycle accidents can often result in severe, life-threatening injuries because bikers have minimal protection against crash forces. If you were injured in a motorcycle crash due to another motorist's negligence, you may be entitled to compensation for lost income, pain and suffering, medical bills, and other damages. With so much at stake, choosing the best motorcycle accident attorney for your case is essential to success in court or negotiations with insurers. 
Personal injury lawyer Brad Tabakin has been representing bikers throughout New Jersey and Pennsylvania for nearly 30 years. He will evaluate your case for free to determine whether you have grounds for a claim. Call us today at 877-333-0300 to schedule a free initial consultation.
Visit and join our Facebook group to keep up with the latest developments in the Bikers Have Rights community.
Choosing the Best Motorcycle Accident Attorney for Your Case
In the aftermath of a serious motorcycle collision, you may find yourself struggling under the mounting burden of medical bills and lost wages. While you thought the insurer would cover the costs, providers are often looking for ways to deny or undervalue your claim. Any mistakes on your behalf during these negotiations could compromise your chances of obtaining fair compensation.
Our motorcycle accident lawyers have a keen understanding of the various strategies employed by insurance companies to challenge claims. Not only will we handle any communication with the insurance adjuster, we will help gather evidence, interview eyewitnesses and, if necessary, bring in expert witnesses to provide testimony. 
We have an in-depth understanding of personal injury and wrongful death case law and statutes, as well as extensive experience handling a wide variety of motorcycle accident claims including:
Motorcycle car accidents;

Motorcycle truck accidents;

Drunk driving accidents;

Motorcycle accidents involving uninsured drivers; and

Wrongful death claims.
Brad Tabakin is a motorcycle accident attorney and rider himself who has spent his career fighting for bikers' rights. Over the past two decades, he has secured multiple six- and seven-figure payouts for his clients.
Find the Best Motorcycle Accident Attorney for Your Case
If you were involved in a motorcycle accident in New Jersey or Pennsylvania and are seeking skilled legal representation, it's time to contact personal injury lawyer Brad Tabakin. Call 877-333-0300 today to find out more.