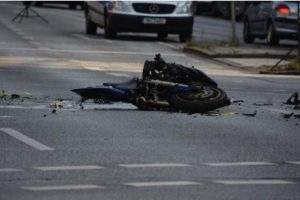 Motorcycle crashes often result in devastating injuries because riders have very little protection from impact. If you were injured in a motorcycle wreck due to another driver's negligence, you may be entitled to compensation for medical bills, lost income, pain and suffering, and other damages. Pennsylvania and New Jersey Motorcycle accident attorney Brad Tabakin will evaluate your case for free to determine if you have grounds for a claim.
Our experienced personal injury lawyers can help you pursue the maximum compensation and avoid costly mistakes like making a recorded statement to the insurance adjuster, accepting a settlement too early, or missing important deadlines. Call us today at 877-333-0300 to schedule a free initial consultation.
If you'd like to keep up with the Bikers Have Rights community, join our Facebook group.
4 Qualities to Look for When Hiring a New Jersey Motorcycle Accident Attorney
If you were seriously injured or lost a loved one in a motorcycle crash, your financial security could depend entirely on the outcome of your claim. As you may already know, insurance companies have financial incentive to pay claimants low compensation. The adjuster might try to coerce you into making a recorded statement that can be used against you, or might offer a low settlement before you've had a chance to speak with a New Jersey motorcycle accident attorney.
It's important that you find a lawyer who knows how to negotiate with the insurance company for the appropriate payout, and who is not afraid to take your case to trial if necessary. Here are a few qualities you should consider when searching for a motorcycle accident lawyer:
Experience handling motorcycle accident cases and knowledgeable about motorcycles;
Litigation experience;
Honesty regarding the potential outcomes of your case;
Availability—responds promptly to questions and concerns; and
Negotiation skills and genuine care for your case.
Discuss Your Case with a New Jersey Motorcycle Accident Attorney
Our firm will handle all correspondence with the insurance company and will make sure you aren't bullied into accepting a low settlement. We are well-versed in the laws that govern motorcycle accident claims in New Jersey and Pennsylvania, and we will use our knowledge, resources, and courtroom experience to help you fight for the compensation to which you are entitled. Call us today at 877-333-0300 for a free initial consultation.